Projektbeschreibung
Palliative care aims to improve the quality of life for people with chronic or terminal diseases. The number of people requiring palliative care is increasing, especially for respiratory conditions like asthma and COPD. There has been an increase in asthma patients of 50% per decade, and 25 million people suffer of asthma in the united states alone.
Meanwhile, there aren't any devices that are capable of continuously monitoring respiratory function. While Spirometry can very accurately measure important parameters like forced expiratory volume delivered in the first second (FEV1) and forced vital capacity (FVC), this test requires patients to visit a doctors office.
To overcome these problems we plan to develop a small device that can be worn by the patient like a patch. It will use a microphone to record the breathing activity of the patient. The recorded sound will then be analysed by a neural network to infer FEV1/FVC ratio and therefore lung function. To first test out our device we plan to let it be used by healthcare professionals in an emergency room setting to monitor patients while they are waiting. We hope that our device will lead to an increased feeling of safety and quality of life for patients with chronic respiratory conditions.
Projektlink
https://www.mad.tf.fau.de/teaching/innolab/pentalobes/
Team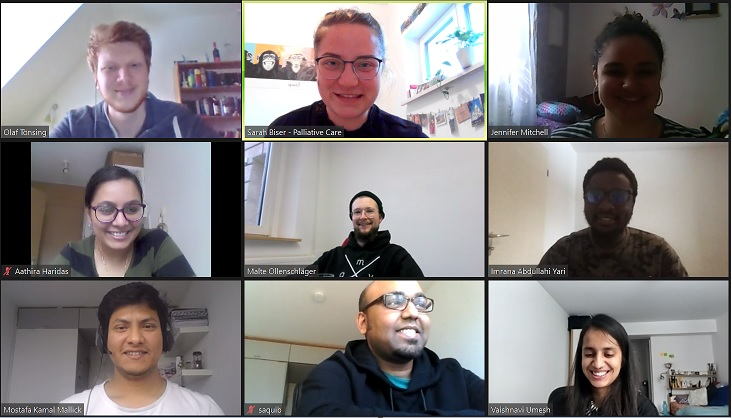 Sarah Biser, Aathira Haridas, Jennifer Mitchell, Mostafa Kamal Mallick, Vaishnavi Umesh, Olaf Tönsing, Shaheb Jada Nazmus Saquib
Partner
Universitätsklinik Erlangen, Palliativmedizinische Abteilung
Betreuung
Prof. Dr. Björn Eskofier, Imrana Abdullahi Yari, Malte Ollenschläger